Cleo inspecting my new ornaments for Art Walk
I admit that I am getting a little obsessive about using scraps.  However, my horse Cleo and I think the results are pretty cool.  These ornaments really catch the light.  I added a handmade no-turn wire hanger so they will face forward on your tree.  I took this picture in the pasture on a VERY windy day.  The ornaments swung, but didn't spin.  The bright stained glass pattern is only available in limited quantities.  I have been trying to use every bit of the gorgeous vintage silk scarf they are made from.  I first cut it for lamps, then candle holders and now I am using the tiny scraps to make stars for your tree or window.  I'll bring them to Art Walk on Saturday and Sunday.  They are 4″ wide and cost $5.00.  I hope to see you there!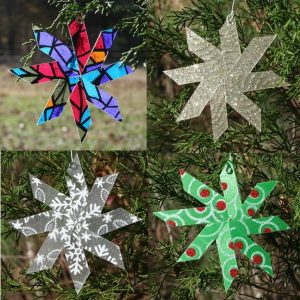 Liked this post? Follow this blog to get more.