Only at the Durham Artwalk Nov 22-23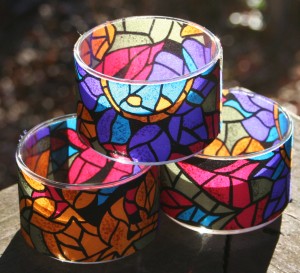 Introducing stained glass windows in a bowl.  These small glass bowls have a removable vintage silk and plastic collar to make washing them easy.  I used up all the scraps I had after making lamps from the same scarf.  I think the bowls would be fabulous tea light holders or dessert bowls, but the possibilities are endless.  My husband said, "great for keeping track of loose screws."  I prefer jelly beans.
I will be selling them at the Durham Artwalk November 22-23 for $5.00 each.  I am sure they will not last long so please come by and pick some up.  They would make fabulous presents filled with your favorite holiday treat.  I'll be at the Durham Arts Council on the second floor by the Semans Gallery.  I hope to see you there!
Liked this post? Follow this blog to get more.